Success Story
Success Story 1
Title : Mixed Farming for Prosperity to small farmers
Category : Mixed Farming
Challenges and Specific Interventions : While most of the educated youth these days want a white collar job after graduation, Mr Aditya Kumar Singh of Hariharpur village was attracted to farming. He firmly believed that crop cultivation alone would not provide him substantial income with 3 acre land to live a decent standard of life. He had to diversify his income and reduce risks to survive that were suggested to him in interaction with the scientist of the Krishi Vigyan Kendra. He has to undergo trainings on crop, poultry, goat, dairy, vermi-compost and fisheries.
Initiatives / Activities :
After being equipped with the technical expertise and the intricacies of management, vaccination, housing, feeding initially he went ahead with Goat farming. Presently he has 20 goats of Bengal, Beetal and Barbari. "Goat population increases rapidly and there are no substantial cost involved in rearing" he says to unemployed youth. Then he established a broiler unit of 500 flock size and a fish pond. The cow dung from cattle is used in the vermi-compost unit and the vermi-compost and poultry litter used in farm to improve soil. He is now doing diversification but in crop cultivation as well, cultivating paddy in kharif and wheat, maize, potato, mustard and coriander in rabi.
Key Results/Interesting Facts :
With these combined enterprises he is now earning a net profit of Rs. 3.5 lakh annually, substantial to live a decent life.
Impact : His endeavor motivates unemployed educated youth to earn rural livelihood themselves.
Lessons Learnt :
Mixed farming is more remunerative than specialized farming.
Supporting Quotes and Images :
Livestock and livelihoods are closely related and mixed farming is important for small scale farmers for additional income.
Broiler Flock
Vermi-compost Beds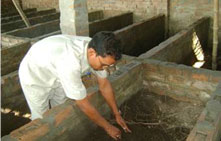 Goat Rearing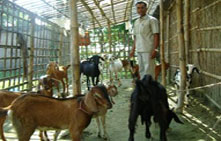 Success Story 2
Title : Vegetable Production sustains family
Category : Horticulture (Vegetable production)
Challenges and Specific Interventions :
With traditional agriculture being non remunerative Binod Kumar Singh has to explore new ways to increase income from his six acre land. The Krishi Vigyan Kendra (KVK) in the district suggested High Value Agriculture viz. cultivation of fruits and vegetables. Today he has evolved a lot and raises nursery on portrays in shed net.
Initiatives / Activities :
He started nursery raising of vegetable and fruits in shed net and later in order to save labour cost, mechanised his farm by purchasing farm machinery and equipments. Raising seedlings in his shed net, he cultivates seasonal vegetables cabbage, cauliflower, capsicum, chillies, gourd, cucumber, carrots, tomatoes, radish and potatoes. Mostly he does line sowing of vegetable crops in the field. He also raises G9 banana in cocopit trays.
Key Results / Interesting Facts :
He has firm belief that the earthworms are farmer's friends. The cow dung from his cattle find use in 10 vermi beds and the vermicompost is used in vegetable cultivation. Bees interest him so he keeps10 boxes. With diversification in vegetable nursery and production, he has increased his net income to 4 lakh per annum. His family income comes from agriculture resources up to his satisfaction.
Impact :
In recognition of his efforts to popularize vegetable production he won many awards at state and national level such as Kisan Sree and Global Agricultural Summit award. He is awe inspiring for youth and elder to get involved in vegetable production for livelihood.
Lessons learnt : Vegetable production is High Value Agriculture providing employment and remuneration.
Supporting Quotes and Images :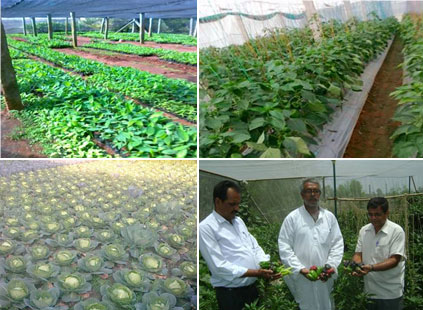 Success Story 3
Title : Remunerative Banana cultivation
Sri Manish Tiwari from Sipaya village inherited flood prone land from his father. When he approached the neighbouring Krishi Vigyan Kendra (KVK) he was suggested to put up a bund so that he could increase cropping intensity and get return on his investment by planting rows of eucalyptus trees at regular intervals and papaya on the bund, besides ensuring safety of crops from flood.
He laid a bund with money and effort; laser levelled his land, planted improved varieties of sugarcane initially but later on with District Horticulture Department went for banana plantation on large scale with variety G 9 intercropped with vegetable crops such as cauliflower and tomato.
He marketed cauliflower curds and later also seed of cauliflower. To save labour cost he makes extensive use of small farm equipments such as power weeder, rotary tiller and pump sets. For maximizing water use efficiency, drip irrigation is practised in the banana plantation. He earns a net income of Rs.4,75,000 annually from Banana cultivation alone.
His success with banana cultivation motivated other farmers in his locality to take up banana cultivation in large scale. Hence large number of banana bunches from the village finds its way to the district market and elsewhere. Social responsibility such as caring for the underprivileged marginalised "musahars" the rat-eaters find their employment in his farm.
In recognition of his effort Kisan shree has been bestowed on him by Government of Bihar.